Dog Licenses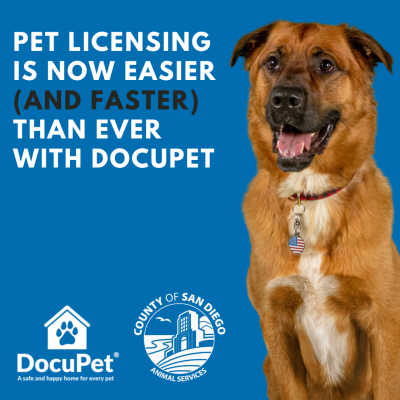 By law all dogs must be licensed.
Dog license fees help pay for the care of lost and orphaned pets; for animal cruelty investigations and other community services that promote animal health and safety.
County Animal Services provides licensing to residents of the unincorporated areas of the county only. 
You must buy your dog's first license before it is five months old or within 30 days of moving it into our service area if the dog is older than five months.

License fees for altered dogs:
$20 /one year
$35 /two years
$50 /three years
License fees for unaltered dogs:
$60 /one year
$100 /two years
$150 /three years

If you are late with your license renewal there is a $25 late fee.


A Rabies Vaccination Is Needed
To license your dog, you must have proof – usually from a veterinarian – that your dog is current with its rabies vaccination. Dogs must be at least three months old before they can receive that vaccination.
County Animal Services shelters provide low-cost license, microchip and rabies vaccination services every day.
Microchips $25; rabies vaccination $20.
Your dog must be on a leash; cats and rabbits in a secure carrier.
If your dog has a serious medical condition you may apply for a rabies vaccination exemption.
Where Do I Get My License?
Dog owners who live in the unincorporated areas of San Diego County will get their dog licenses from us either by mail or on-line. If applying on-line:
Proof of vaccination must be emailed to dasinfo@sdcounty.ca.gov                                                         immediately following your online registration.
License "Fee Exemptions" not available on-line.
You may apply online, or by mail.
If applying by mail:  After your veterinarian gives you the certification of rabies vaccination, you may mail it along with your check or money order made payable to:
"County Animal Services"
Licensing Division
Department of Animal Services
5821 Sweetwater Rd. Bonita, CA 91902
If you live in other areas you can find your animal services agency here »
Lost Tags
If your dog loses its license tag, send a $10 check or money order made payable to County Animal Services for a replacement. Reference your dog's license number on the memo portion of the check and mail it to:
Replacement Tag, Licensing Division
Department of Animal Services
5821 Sweetwater Rd.
Bonita, CA 91902
Moved?
If you move, please email Animal Services and provide your name, new address, phone number, and dog's name and license number.
Other
If your dog dies, please send an email to us so we can remove your dog from the license renewal list. Unfortunately the balance of your license fee is not refundable.