Wildlife
24/7 for animal-related emergencies
if life is endangered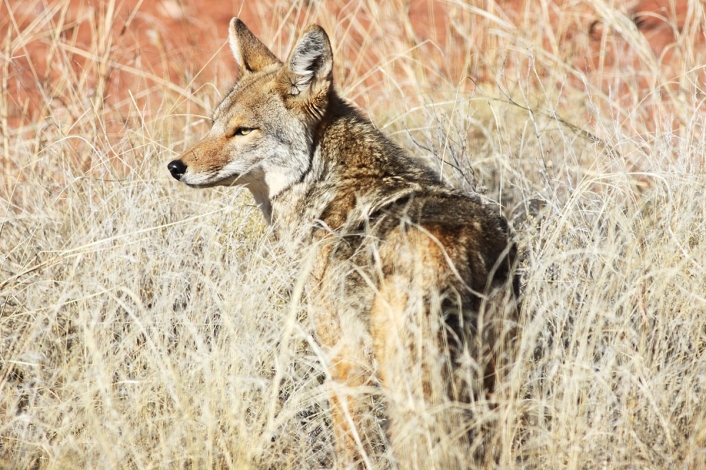 What to do when I need help with wildlife?
We will respond when a wild creature is posing an immediate threat to humans or other animals.
We will respond if the animal is sick or injured, too young to survive on its own or trapped. We do not respond to reports of wildlife being loose or simply roaming.
We will respond if the wild animal is a rabies vector (raccoons, skunks, bats, foxes or coyotes, for example) AND has attacked you or your pet.
We cannot help you with wildlife nuisance problems like skunks under your porch or opossums raiding your pet's food.
For information on rattlesnakes see brochure »

For more information see one of the following agencies:
Bat World Sanctuary
940-325-3404, batrescue.org
All Wild Animal Control & Rescue
858-229-7280
Hummingbird Rescue Center
775 Fig Ave., Chula Vista, CA 91910
619-420-5156, hummingbirdrescuecenter.org
Dead Bird Reporting
San Diego County Department of Environmental Health
888-551-4636
Mostly Monkeys
760-788-6940, mostlymonkeys.org
Racing Pigeon Club (Banded Pigeons)
6905 Central Ave., Lemon Grove, CA 91945
619-465-8004
Wildlife Assistance
858-278-2222, wildlifeassist.org
County Department of Agriculture, Weights and Measures
9325 Hazard Way, Suite 100, San Diego, CA 92123 
800-486-0010, sdcawm.org
Or 858-694-2518 for the County Trapper
Or for see this page for Bees »
California Department of Fish & Game
3883 Ruffin Road, San Diego, CA 92123
888-334-2258, wildlife.ca.gov/regions/5
Information on hunting, fishing and the taking or keeping of wild animals
San Diego Herpetology Society
619-760-0578, sdherpsociety.org
Parrot Education and Adoption Center
P.O. Box 600423, San Diego, CA 92160
619-287-8200, peac.org
San Diego Humane Society's Project Wildlife
Intake: 5433 Gaines St., San Diego, CA 92110
619-299-7012, sdhumane.org 
Serves San Diego County with rescue, rehabilitation and return of wildlife. 
Horses of Tir Na Nog (horse sanctuary)
P.O. Box 19131, San Diego, CA 92159
619-465-6384, email: horsesoftirnanog@yahoo.com
San Diego Zoo
2920 Zoo Drive, San Diego, CA 92101
619-231-1515, sandiegozoo.org
San Diego Zoo Safari Park
15500 San Pasqual Valley Road, Escondido, CA 92027
760-747-8702, emergencies: 760-738-5010
Sea World Aviculture and Bird Department
500 Sea World Dr., San Diego, CA 92109
619-226-3900, menu option 8
Acceptance of injured birds, or beached or injured mammal
U.S. Fish and Wildlife Service (Imperial Beach)
Tijuana River National Estuary Research Reserve
619-575-2704, fws.gov/refuge/tijuana_slough

Whom do I call to get a dead animal removed?
We do not pick up dead animals on public or private property. Please see below for numbers to call.
Unincorporated County
To request the removal of dead animals from County properties, call: our contractor's 24-hour phone 760-539-0012.
County Roads
To report a dead animal on County roads, call our contractor at 760-539-0012.
Countywide - Private Property only for a fee
To request dead animal removal 24/7 from a private property, call 619-390-8204. There will be a fee.
CalTrans District 11, San Diego & Imperial Counties State Highways
To report a dead animal on state highways, call 619-688-6670 or 619-688-6699
Cities
Contact your city for more information.