Donations
We gratefully accept financial contributions to the Spirit Medical Fund to help injured and sick animals regain their health through surgery, medicine and follow-up care. Thanks to your gift, they can be adopted into new loving, forever homes.


: Stories


Spirit Veterinary Medical Fund
The Spirit Veterinary Medical Fund was created in July, 2008, after a 10-week-old puppy was savagely beaten near our border with Mexico. The beating was seen on a Border Patrol surveillance camera several miles away. Border Patrol officers went to the site, rescued the battered puppy and called for a Department of Animal Services officer.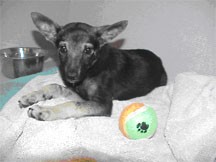 The little puppy came in with many broken bones and veterinarians could tell this wasn't her first beating. She needed extensive medical assistance. The man who beat her could break her bones, but he couldn't break her spirit.
Despite her brutal injuries, this little dog sought out the attention and love of everyone at the shelter. She was given the name, Spirit.
When news of the savage beating was broadcast, donations poured in from around the country. Soon there was enough money to help other animals too.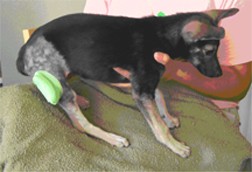 At County Animal Services, we established a permanent fund so more animals in need of expensive treatment could be helped. Many animals have since found a new life in our shelters including a puppy found in a dumpster with his ears cut off and an expensive pup that was turned over to us because the owner couldn't afford the medical treatment for a broken leg.
Spirit, along with many other animals, recovered from her injuries and now lives happily with her new family.

We gratefully accept donations to help us care for animals with serious medical needs.
All donations to the Department of Animal Services are tax deductible.
Our tax identification number is 95-6000934.
You may also donate by check made payable to the Department of Animal Services and mailed to:
Department of Animal Services
5821 Sweetwater Rd. Bonita, CA 91902
Please write "Donation for Spirit Fund" in the memo field of the check.
If you would prefer to donate items needed by our animals please see Donate Items »
Thank you for your generosity and caring!